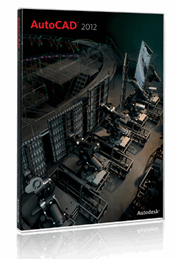 What can you expect in AutoCAD 2012?
AutoCAD 2012 now ships with a new Content Explorer. Much like Design Center you can now search network locations to find your block libraries. AutoCAD 2012 also indexes your libraries which dramatically speeds up searches.
In addition, Autodesk had added a new interface is added for Autodesk Exchange with online resources, help files, and videos. Also added is AutoCAD WS , an online sharing and collaboration website.
Auto-Command Complete has also been added . Just start typing what you are looking for and commands appear as you type more letters. If you're one to use the command like this will save lots of time spent typing.
The new Array functionality allows to maintain and edit a set of relationships between arrayed objects. For example, you can modify the number of rows or columns in a object grouping and update the layout very quickly. In addition it integrates the Divide or Measure command and updates the drawing accordingly.
Improved grip options have also been added. New features have been added spending upon the object type you happen to hover over. For example, new grips for Dimensions allow you to flip arrows, adjust text position and so forth.
Related: Check out Mech-Q release for AutoCAD 2012 today