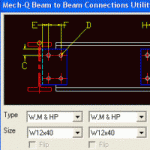 Our Structural Steel Detailing utility draws in both 2D & 3D and includes auto-BOM scheduling. Various modules also include auto-dimensioning of components to fabrication details.
We have also released versions to run in several CAD packages including: AutoCAD, AutoCAD LT and IntelliCAD and AViCAD. Try our Structural Add-On today.
Structural modules include:
Steel Shapes & Beams
Structural Stairs Utility
Structural Ladders Utility
Structural Hand Railing
Structural Bracing
Beam to Beam Connections
Structural Welded Frames
Beam Design Module
Welding Symbols
Standard Steel Shapes and sizes included:
AISC/ASTM : W & WT, S, M, HP, C, MC, L & RHS
Canadian (CISC):W, WWF, S, M, HP, C, MC, L & HSS.
Plus many Metric sizes as well!