At CADavenue, Christmas is not over - we still have 5 days left! To continue the celebration we're offering some great deals. We hope you take advantage of them. All offers expire Friday, Jan 2nd, 2015.

Get
$100
$200
off either Mech-Q add-on for AutoCAD or LT.  No CAD, No Problem -Save
$100
$200
on AViCAD Pro too - our complete 2D/3D CAD program with Mech-Q, EasyArch and 20,000+ blocks.
Purchase a Mech-Q or AViCAD Lifetime License today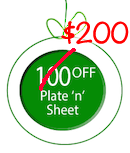 Receive
$100
$200
off either Plate 'n' Sheet the most easiest way to unfold your shapes and transitions for printing and cutting. No CAD is required, although Plate 'n' Sheet will export to DXF.
Save on Plate 'n' Sheet today

Save $50 on our Yearly Subscription for either Mech-Q add-on or AViCAD. This license allows you to use either product fully unlocked for 12 months.
Subscribe today and save on
Mech-Q Yearly
or
AViCAD Yearly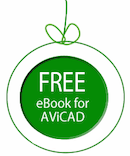 Download our AViCAD Ebook for free - this is a $7.99 value but during the holidays its yours to keep - no strings attached.
Claim your free eBook now
Hurry these offers these
will expire
Jan 3rd, 2015.
We wish you a great holiday!
From the staff at CADavenue, we wish you joyous Holiday Season. Note: our holiday hours are 8-5 Pac. Time, except we're closed on New Years Day.