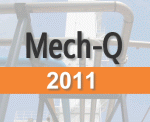 A new Mech-Q version has just been released. Mech-Q now fully compatible with AutoCAD 2011 Full Version!
We have also release Mech-Q for AutoCAD LT 2011, both 32 bit and 64 bit are available!
Mech-Q is also fully compatible with Windows Vista & Windows 7 – Both 32 and 64 bit operating systems.
The latest release of MechQ is largely a Maintenance Update release. Several minor improvements and bug fixing in:
Mech-Q Piping
Mech-Q Mechanical
Mech-Q Structural
ASVIC and CADSTA
Please note: following the demise of drcauto late 2009. ASVIC no longer use drcauto's LT Toolkit with Mech-Q. We now use the new advanced CADSTA Tools which allows LISP to run in LT. All new versions of Mech-Q LT versions from now (2006-2011+) will be using CADSTA Tools.
Customers that are still using an old version of Mech-Q with LTToolkit should now upgrade to Mech-Q.