Hi Subscriber –
I know it's a busy time of year with Christmas less than 25 days away and Thanksgiving just next week.
But don't forget, today is the day! Save $100 on any of our non-subscription products. Whether you have AutoCAD, LT or maybe you don't CAD at all …. we have the solution.
Jim Grooms in Tennessee says:
Thanks for supporting your product. This is the best program that I have used and you keep improving it.
and Waldman Roland from Belgium writes:
…I am very, very happy … I can really appreciate the amount of work you have invested in Mech-Q and what impresses me even more…
Join thousands of users worldwide who have discovered MechQ, AViCAD and Plate 'n' Sheet.
Explore our products
Call us with any questions you might have and remember today is the last day to use this coupon, so act now.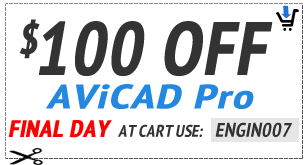 We can be reached at 888-271-7121 or simply visit our helpdesk and we will get back with you right away.
Have a great weekend and a Happy Thanksgiving to you.