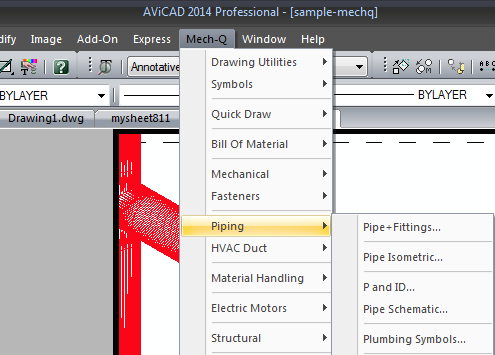 We are happy to inform you that an AViCAD Pro update is now available! Now DWG 2.5-2017 support with quick install and simplified registration plus hundreds of bonus utilities.
AViCAD is a IntelliCAD based CAD Application which is rapidly becoming the choice among firms across the USA, Canada and Europe. You will find that the commands and icons and commands will be instantly familiar to you. Its an extremely affordable AutoCAD alternative.
Best of all AViCAD is 100% compatible with our engineering software. It features a easy to use drop down menu and toolbar interface that integrates into the CAD program.
And AViCAD is fully Compatible with the Windows 8 /8.1/10  too!
AViCAD will run on all 32 and 64 bit Windows computers, plus it saves to DWG files by default without the need for manual import or export operations. AViCAD is available in both (AViCAD Piping ) or both 2D & 3D (AViCAD Pro).