Introducing Easy Pay!
What is Easy Pay? Easypay allows you to buy Mech-Q or AViCAD with low monthly installments.  It is the easiest and most affordable way to purchase our products.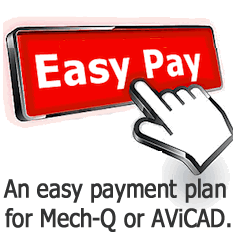 The Affordable Way to Buy Our Products
After you've subscribe to Easy Pay, your first payment is deducted from your account. This will occur on the date you activate Easy Pay. At this point we will deliver a download with a registered code so that you can use our products unlocked while you continue to make payments. All purchases include a 3 months Service & Maintenance contract
Then every 30 days thereafter another payment will be processed until all payments are made. Payments are made on or after the due date on your bill.
Note: The Easy Pay program is available for Mech-Q AutoCAD, Mech-Q LT and our AViCAD product only.
Questions about EasyPay?
If you have questions call the store at 1-888-271-7121 8-5 M-F PST , or you can use our 24/7 helpdesk form.