EasyPay allows you to buy Mech-Q or AViCAD with 4 low monthly installments.  It is the easiest and most affordable way to purchase our products.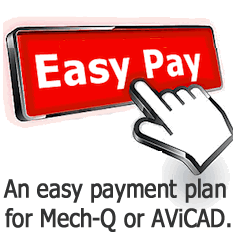 How does it work?
After you've subscribe to EasyPay, your first payment is deducted from your account. This will occur on the date you activate EasyPay.
Then every 30 days after your initial payment we will automatically process 3 remaining payments. A receipt will follow each time a payments is made.
Upon 4th and final payment, you own the software.
One payment gets your started
Shortly after your initial installment we will deliver a download with a registered code so that you can use our products unlocked while you continue to make payments.
Free upgrades and priority support …
All purchases include a 6 months Service & Maintenance contract. This entitles you to upgrade at any time during the 6 month period.
Optionally at the end of your subscription you can re-subscribe or continue to use your version. If you choose not to subscribe we recommend backing up your latest version before expiration.
Note: The EasyPay program is available for Mech-Q AutoCAD, Mech-Q LT** and our AViCAD Pro product only.
** If you have LT you will need to select option below (adding $50 to each payment). For more see CADSTA requirement.
It's super easy!
Just click on the green View Payments button below to view your subscription dates.
Note: No credit check is required. You simply agree to make 4 payments (199×4) + one $20 setup fee =$815.99 total cost. Purchase also includes 6 months Service & Maintenance contract (see above).
Software delivers electronically within hours. A CD backup can also be purchased if needed and delivers 3-5 day Priority U.S. Mail which adds $7 to each payment to total $21.
If you have questions call the store at 1-888-271-7121 8-5 M-F PST , or you can use our 24/7 helpdesk form.