Already have AutoCAD?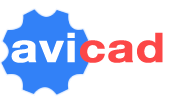 AViCAD 2018 is our latest CAD package with Mech-Q Suite included. It's also a complete 2D/3D CAD application just like AutoCAD.

The new AViCAD 2018 is here. Many new features added! Older AViCAD versions can also be updated for a nominal fee. Save $200 today - limited offer!
Your data is secure


Our network firewall keeps your data safe. All data is monitored 24-hours a day and our product software is regularly scanned for your protection.
What's required? Windows® XP, Vista, Windows 7 , 8 or 10 with Intel Pentium® or more powerful processor 1 GB RAM (minimum), 2 or more GB (recommended) and 1 GB of hard disk space.
Any questions before you sign up?
If you have questions about AViCAD or the sign up process just submit a support request and we'll get right back with you immediately.
Got terms of service and privacy policies?
Here are our Terms of Service and our Privacy Policy.