Already have AutoCAD?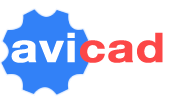 AViCAD 2017 is our latest CAD package with Mech-Q Suite included. It's also a complete 2D/3D CAD application just like AutoCAD.

The new AViCAD 2018 is almost here. Buy 2017 now and receive this update free!
Your data is secure


Our network firewall keeps your data safe. All data is monitored 24-hours a day and our product software is regularly scanned for your protection.
What's required? Windows® XP, Vista, Windows 7 or Windows 8 with Intel Pentium® or more powerful processor 1 GB RAM (minimum), 2 or more GB (recommended) 1 GB of hard disk space.
Any questions before you sign up?
If you have questions about AViCAD or the sign up process just submit a support request and we'll get right back with you immediately.
Got terms of service and privacy policies?
Here are our Terms of Service and our Privacy Policy.