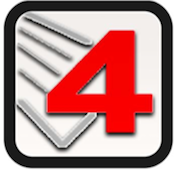 Although not a part of the Mech-Q Suite – this unfolding software allows you to create 2D templates from 3D Shapes. For Metals, Plastics and Insulation Industries. Supports DXF to CNC. CAD is not required.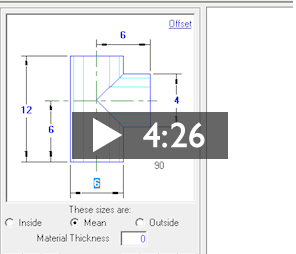 Plate 'n' Sheet Professional allows you unfold 3D shapes for Piping, Ducting and Steel Fabrication. Plate 'n' Sheet is really easy to use — even if you've never used a CAD program — you'll find it a breeze to create both 2D templates and 3D drawings.
Above is a video walk-through showing you how to create a 2D Flatten Template and 3D Model in less than 20 seconds!
How to unfold 3D shapes
To get started with Plate 'n' Sheet, you'll want to select a shape or transition type from the Main Category List. Here you'll have nearly 20 different main categories to choose from.
Next, narrow down your selection choose a part from the Sub Category List. You'll notice that certain shapes are shaded in blue. This indicates that just this piece that will be flattened. If the shape is solid grey then all pieces will be included in the template.
For this example we'll be choosing a Pipe to Pipe connection. We'll then select a shape image and then press Continue button. Notice in the upper left is our Model Window we can enter in all the Parameters of our connection.
Simply click and type in the dimensional constraints. That is essentially all you need to do to create a pattern.
Note: see how the dimensions change to blue after we've selected a view. This indicates they have been successfully processed.
See the details
At this stage the drawing is already complete and can viewed as either a 3D model or as a flat pattern at any stage of the process. Orthographic viewing angles (top, front, side, end and four isometric angles) are also available at the click of a button.
Download Plate 'n' Sheet today for FREE!
Enter your email address below and we'll send you info:
More about Plate 'n' Sheet
Plate 'n' sheet is a standalone program. But you can also use the Export DXF to either send to a CNC plotter or import the drawing into another CAD application like AutoCAD LT (as we show in the video).
Within Plate 'n' Sheet there are several option tabs allow you to change color, set default sizes, customize export layers, configure printer, set metric or inches for units, modify auto dimensions and choose lap sizes and angles.
At any time in the process you can view the 2d flattened template anytime by clicking the "Pattern View" button.
There are also many auto dimensioning modes available including one to auto-calculate the area of of the frame and each individual part on the template.
Text size can also easily be changed using a simple pull-down.
To measure or dimension click a point on the pattern – then using the left mouse button … hold it down and simply select your second point.
Information to assist estimating the cost of a project is also available through the Mass Properties feature.
A label may be positioned on the drawing to show the parameters entered to create to the shape.
You may enter a project name and number, your initials, and a description. Then add it to the drawing and drag it as needed.
In addition you can print a flatten template or simply print the current 3D view that is displayed.
Plate 'n' Sheet Professional can be used with most printers, from wide format CAD plotters to small A4 inkjet or laser printers. Plate 'n' Sheet also allows sheets to be tiled together for printers with smaller paper sizes.
Get Plate 'n' Sheet today
Using AutoCAD with PnS is also very straight forward – for example, today we're using AutoCAD LT and save it to a DXF called "branch" with Plate 'n' Sheet – the result is a 3D model can be viewed, dimensioned and plotted using either Plate 'n' Sheet or your CAD application.
Well we hope this has given you a good view of whats inside Plate 'n' Sheet – as you can see it is extremely easy to use and a real timer saver. Download Plate 'n' Sheet today and let us know what you think.  Note: Printing and Export disabled in demo version.
Plate 'n' Sheet will pay for itself very quickly. Make the investment in a great piece of software today. If you have any questions feel free to call us at 888-271-7121.
See the details