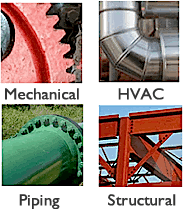 Our Mechanical / Engineering  Suite contains the Mechanical, Piping, Ducting & Structural modules below. Most of our utilities are equipped with 2D ISO & 3D drawing functionality and include Bill Of Materials.
Mech-Q runs inside your CAD application as a add-on. We support all versions of AutoCAD (R14-2017), Bricscad, Cadian, ProgeCAD, GstarCAD, AcelliCAD and many other IntelliCAD based CAD packages.


Mech-Q now runs in AutoCAD 2017 ** with 6 months free maintenance included.
Looking for a complete CAD engineering solution? See AViCAD
Your Questions:
Do you offer discounts on your Mechanical CAD Software?
We offer discounts when you combine 2 or more modules. We also offer big discounts if purchasing multiple copies. Send me a quote.
Does Mech-Q run on a network?
Yes. If you have a standard edition of AutoCAD we offer floating licenses. This allows you to check in and out your licenses within a large office. Ask us.
What happens when I upgrade my AutoCAD
We offer a maintenance plan which allows you to upgrade our Mechanical CAD Software for free. Otherwise an upgrade fee will apply. If you stay within your AutoCAD version you can update for free.
Whats the difference between Mech-Q and AViCAD?
The Modules offered in AViCAD are exactly the same as Mech-Q. AViCAD ships FREE with a CAD program for those who need a compatible platform or wish to add a workstation.
Related Links