Description
Draw proficiently in CAD without having to spend countless hours doing so.
Do you want to become super skilled at CAD but just can't find the time?
I know as a beginner CAD user, all you want is to get your project done. But the fact is, you're probably getting stuck in all the CAD clutter. What kind of clutter am I talking about? All the countless options, dialogs and unnecessary clutter only keep you from getting your project completed. For most CAD seems nearly impossible to learn, especially if trying to learn it on your own. But the fact is, it's very doable if you take it piece by piece and simplify the whole process.
I'll bet you've probably viewed tons of Youtube videos, read through books and perhaps even taken another CAD course. But the fact is you're probably nowhere near being as productive with CAD you had hoped for. You need to stop plodding through projects and start to draw like a skilled cad user should.
Imagine being able to effortlessly create high quality CAD drawings without having to stumble and get lost in CAD confusion.
The good news is, you can! And I'm going to show you how to take CAD by the reins to make the this application work for you. You don't need to labor over your projects any longer. I'll take you from someone who is very intimidated with CAD into someone who can call themselves a real CAD operator or even CAD consultant. At the end of this course you'll have both the foundation and confidence that you need in order to take your drawings to the next level.
Introducing Shortcut CAD
An online course for those struggling to learn CAD and are ready to start designing technical drawings, no matter what industry you may be in. Over the years I've had the opportunity to work with many Autodesk trained users who also developed their own workflows, some good and some, well, pretty bad. I've seen and also experienced some of the common pitfalls learning CAD for the first time.
The biggest mistake I see is that new users will just plunge into CAD without learning the foundation first. Then overtime develop bad habits and go arounds as they work though pressing deadlines… and these bad habits just slow them down time and time again.
Interactive content throughout the course
I'll provide you with PDF files you can download and refer to throughout the class. I'll use real examples to show you the drawing process. You also have access to various learning quizes. Each module is about 30-45 minutes long and broken into simple 10-15 min work sessions.
What this course is all about
This course focuses on these primary objectives:
• Providing as close to the 1-to-1 mentorship experience as possible
• Learning concepts and building a solid CAD foundation effortlessly.
• Optimizing your CAD workflow by using various shortcuts.
• Delivering easy to follow lessons which are only 10-15 min long
• Breaking the barrier of complexity to simplify the drawing process.
• Providing you with over 9 hours training with lifetime access
Shortcut CAD teaches you the most straightforward way to drawing by decluttering the interface, learning how to use the command line in an efficient way, demystifying how to setup styles, use annotative scaling, blocks, xrefing and so much more.
Full Pay $249 – lifetime access to the course
Zero risk purchase—the risk is on me! I want you to be over-the-moon delighted with Shortcut CAD. However, if within the first 2 weeks you're not entirely satisfied with the content and direction of the course, please contact me or a full refund. No questions asked.
For fun you can take a short quiz here on topics we'll be covering.
What users say …
Many thanks again. Your support is the best I've received. I hope your other customers feel the same as I do.
Philip VentonVenton & Assoc.com
I have to say your tutorials and guidance are very professional and proficient. They are very easy to understand without long and tedious explanations. Simple and straightforward.
Lewis CooperC & C Construction and Consulting
Your support is the best. It gives me confidence to use my CAD! In all the years and thousands of dollars, I've never had this kind of response from AutoCAD. Dan McNeill
McNeill Associates
I cannot tell how much I appreciate the support you have given me. It has been well worth the money I spent on it.
Mark CrosbyGaumer Co. Inc.
Never got that kind of service from any software company. Keep up the good work, you are awesome.
Ludek Cerny,CompaMTH Industries
I have sold, trained and used CAD for over 50 years. Started with Intergraph who sold MicroStation then Autocad, Dassault etc. I am quite impressed.
John MurrayJW Murray Corp.
I have been working with these guys since years now! With lots of hard work and timely communication they made sure they delivered the best to me. Highly recommended!
John Furgurson BN Branding
It does not matter what industry you are in as the examples and methods you will learn can be applied to any type of project.
What we'll be covering in each module:
0. Welcome / Set Up
Here you'll see the roadmap of what we'll be covering and what software you'll need to get started. We'll also have a look at the wall detail and pump house project which we will be drawing throughout this class and the road map to getting this all completed.
I'll also provide you with PDF files you can download and refer to throughout the class. The pump project, the CAD workspace, shortcuts and more. Each module is about 30 minutes long and divided into simple 5-10 min work sessions.
1. Creating a simple CAD workspace
I'll show you how you can easily declutter your workspace plus how to auto hide toolbars and ribbons so that they can be activated only when you need them. We'll also go over how to best navigate around in a drawing, discuss dynamic input and do a small drawing.
2. Basic input of a drawing
We'll discuss the X and Y coordinate system and direct distance input. We'll also cover the importance of using Ortho and Polar modes. Then we'll begin to draw our wall detail and practice some basic input using a series of shortcuts. We are starting to move ahead at a constant, yet easy pace.
 3. The importance of object snapping
As we continue to draw our wall detail, you'll learn how to set up your object snaps, use grips and start exploring layers. We'll also pactice apparent intersections, referencing and other shortcuts and tips.
4. Understanding CAD templates
In the template module you'll learn the importance of using templates in order to save time. I'll provide an example template you can use, complete with title block info and various settings you can use.
5. Using blocks to your advantage 
In this module we will discuss the importance of blocks and how to create and edit them. We'll also create a few small blocks that we can use on our upcoming project.
6. Pump house floor plan
We'll be working on a floor plan input for our pump house. I'll show you how to use dynamic input along with explaining the importance of polylines. We'll also discuss linetypes and use various shortcuts along the way to get our drawing completed.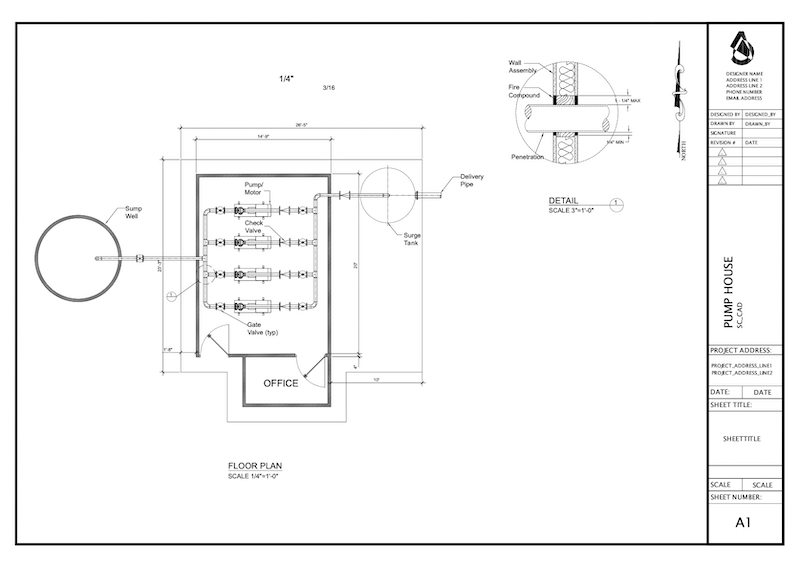 The pump house project (above)
7. Piping and tanks input
I'll show you how to add piping, valves, pumps and tanks to our project. The exercise here is really how to use blocks. Or if you are using Mech-Q it's how to understand direct distance input and DIMSCALE.
In this module you'll have the choice to do either or even both:
1) Quick method: Use an add-on to input  (Mech-Q download provided)
2) Manual method: Assemble the drawing with blocks only (small library provided)
8. Using Layers
In this module we will dive deep into how to use layers in order to better organize our project. I'll show you a series of shortcuts on how to activate, move, isolate and modify them. We'll also a couple of layer states so you can see their importance
9. Annotations and dimensions
In this module we'll jump right into understanding annotations and dimensions – more specifically, how to create styles for each of these. I'll also provide a download so you can copy and paste the styles covered in this lesson. Additionally I'll show you how you can use annotative scaling which can save you some headaches in the long run when it comes to dimensions, text sizes and multileaders.
10. Dimensions, Leaders and Notes
Now that our pump house is inputed, I'll show you how to use the styles we set up in the last module. I'll show you how to dimension and add notes to our drawing. We will also revisit your DIMSCALE setting and how this factors in with our final plot scale.
11. Paperspace and Viewports
Today we are getting ready to print our project. I'll show you how to use Paperspace and create Viewports. We'll also recap on the difference between standard and annotative scaling.
12. Plotting (printing):
In our last module we have some last minute revisions to make and then we are ready to preview our project. Lastly we'll add a few notations directly in Paperspace and then finally print/plot our pump house
Bonus modules:
13. Recovery and backup (bonus module)
I'll show you how to check your recovery settings and what to do after a program crash using your backups and autosaves.  Plus I'll show you how to backup or even share a file in the cloud, all within CAD.
14. Intro to 3D (bonus module)
We'll be converting our 2D pump house into 3D as we explore basic 3D concepts. We'll also discuss the UCS and how to manipulate it. I'll also show you how to create, edit and rotate 3D objects.
Is Shortcut CAD for me?
This course is for you if …
You're just starting CAD without any experience.

You're completely overwhelmed with all there is to learn.

You've got some CAD background but still struggle to draw.

You're seeking to become a CAD consultant and make more money at CAD

Your'e too busy and can't find time to learn CAD.

You're wanting to improve your drawing speed.

You're needing to painlessly transition from hand drawing to CAD.

You're looking for a class with both support and mentorship included.
Again this is a zero risk purchase—the risk is on me! I want you to be over-the-moon delighted with Shortcut CAD. However, if within the first 2 weeks you're not entirely satisfied with the content and direction of the course, please contact me or a full refund. No questions asked.
Please note: this is a presale so you're pre-ordering the course. You'll get instant access to over 4 hours of learning.  I'll be releasing the remaining modules during Sept-Oct 2022. Each module is about 30-45 min of teaching broken up into short 10-15 min work sessions. This presale opportunity will also allow you to give feedback and share your struggles. It will also allow me to cover topics you may be stumbling on with greater detail. If within 2 weeks or before I release Module 3 and you decide the course isn't for you, I'll gladly refund your purchase.
Who is this anyway?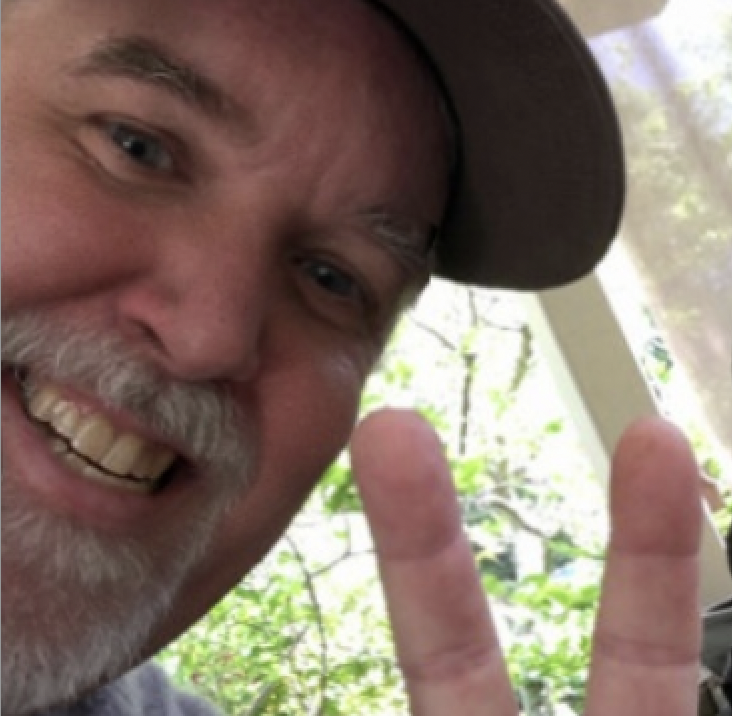 Hi, I'm Erik Z and I love to help CAD users like you become highly skilled at CAD and create drawings with minimal stress and effort.
I was once like you, when I first started CAD over 25 years ago,  I went from pencil drafting into a CAD operator working for a structural engineering office. I too struggled to take myself to the next level. Using my shortcut methods I can draw up sheet sets in days instead of weeks and I'm ready and raring to help you achieve this too!
Got A Question?
Here are the answers to some of the most commonly asked questions.
• Do you offer direct support? One of the big advantages you will have while taking this course is CAD mentorship. You can contact me directly through the Community which you take the course and I will always normally get back with you within a day.
• What's required? You'll need a 2D AutoCAD-Like application. If you don't have one I can provide a 2D/3D CAD (called AViCAD) for 30 days while you get started on the course. Additional cost after this period is $49/mo. and you can cancel anytime. Note: Only the 3D bonus module will require 2D and 3D CAD functionality.
• Is this class just for beginners? It's designed for those just starting CAD, but also for those who may have some background who are struggling with their productivity.
• Will metric users benefit from this course? Yes, even if you are using metric units, you can apply the same concepts and shortcuts you will learn from this course. As you work though examples you'll just need to apply metric values. I'll also provide a metric title block if needed.
• I have a Mac. Will this be a problem? If you have AutoCAD already for the Mac then you are all set to go. If you don't have CAD, then you'll need Parallels to run our Windows based AutoCAD-Like product called AViCAD.
If you have a different question, just contact me here and I'll get that answered.