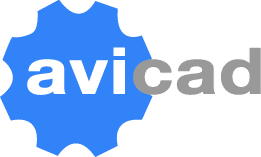 AViCAD offers the same functionality found within AutoCAD® but at a fraction of the price. When coupled with AViCAD and our Mech-Q Plant Design utilities – included for Free – you'll be able to produce CAD and Mechanical drawings very quickly with minimal software investment.
Our latest AViCAD version delivers even faster drafting with 64 bit support for Windows.
Note: Interested in Mech-Q for AutoCAD? – please visit this page.
Now Get AViCAD in Many Ways
Subscriptions and Lifetime licensing available.
Try Now
See Pricing

Save $150 on all perpetual licenses during Sept!
Check out our 2 minute video to see what's inside AViCAD:
Click to play, use < or > to rewind/ forward or space-bar to pause
Hundreds of free tools you won't find elsewhere
AViCAD is CAD software just like AutoCAD® – except AViCAD does it all. AViCAD is 2D/ 3D CAD Software which includes our powerful engineering software, Architectural symbols and Google Earth integration – plus much more.
Here are some AViCAD's main features:
Read and write AutoCAD DWG file type
Mech-Q Suite included
2D/3D Architectural Tools included
Export 3D PDF's that are interactive
20,000+ block library included
See latest features
AViCAD not only provides you the best Engineering Solution but also offers you the best compatibility with much more expensive packages like AutoCAD®. Our software always saves your drawing to the standard DWG format. This ensures unrivalled compatibility with drawings done on AutoCAD® without any file conversion or drawing information loss.
AViCAD can export your files to older CAD versions as well. Select DWG or DXF format if you are collaborating with a user using a non-AutoCAD® system.
AViCAD also writes to AutoCAD® DWG file type using the latest version. This means if other CAD stations in your office working with AutoCAD®, you need do nothing, as your drawing will open in their system every time.
Try AViCAD Free For 30 Days
Download AViCAD Trial
Note:
Interested in Mech-Q for AutoCAD? – please visit this page.