Flanges can be a little tricky to draw by hand in CAD – especially if drawing in 3D. Today we are drawing pipe flanges in a isometric view using our Mech-Q tool in AViCAD.
Upon loading the the main piping dialog box from the toolbar or Mech-Q pulldown you can select either single, double line or 3D. In the video example below, we are working with the 3D option.
3 minute video walkthrough on how to create a piping flange.
Type of Flanges:
After double clicking on the flange icon you can access the settings dialog where you can input the necessary information beginning with type of flange you need to draw.
Blind Plate
Flat
Slip-On
Welding Neck
Lap Joint
Long Neck
Ring Joint
Socket Weld
Boss
User defined
Select the flange type from the " Type " list – then to begin the drawing process, select the icon corresponding to the flange and view required. See the insert points (marked with an X) in order to choose which side of flange you need to draw.
After picking from the 2 icons, the program will then prompt for an insertion point and a rotation angle or up-flow direction.
Note: After selecting the insertion point, the number of holes and other pertinent values are also defined at the command prompt.
Available flange options
The flange routine allows use to choose many different setting including flange thickness, diameter and fasteners. There consist of:
Centers 2D (On/Off)
Draw hidden lines 2D (On/Off)
Raised face or plane
Slip On flanges (if applicable)
Draw as plate flange.
Gasket (On/Off)
Bolts or Studs (for BOM only)
Note: The Bolts/Studs can be also added to the BOM of either the Pipe end or Fitting end mating flange.
When you double click on the flange thumbnail you will also see various pipe flange options.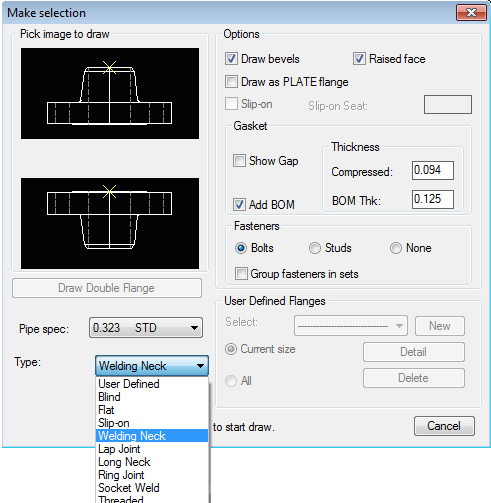 Figure shows a typical dialog menu with various settings available.
How to define your own custom Flanges
You can also add your own flange. This will allow you to quickly recall the settings of a flange later. First select " User Defined" from flange "Type " list.
Then to define a new Flange select the "< Add New >" item in the "User Defined Flanges " box "Select " list. This displays the User Flange Data dialogue. Enter the flange data, then use the button "Save Design " to save the new flange design.
User Defined Flanges are then displayed in the " Select " list. The list can show either all user flanges of the Current Size or All user defined flanges in the data base.
Other piping notes :
The flange routine also works directly with the Piping BOM so that fasteners can also be tabulated.
Mech-Q provides a quick way to draw either 2D or 3D flanges along with many other fittings – each of them can be itemized to a bill of materials for further reporting.
In addition the Mech-Q manual and tutorial is readily available for download  and detailed how-to examples.
Download a free trial