Mech-Q 2020 Released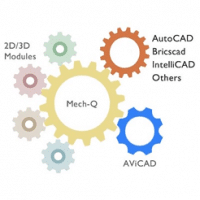 We are happy to announce the new release of Mech-Q for AutoCAD 2020. IntelliCAD versions are also available. If you have purchased Mech-Q recently within the last 12 months you are eligible for a free download. Feel free to contact us for a licensed download or ask us for a quote.
Now Get Mech-Q in Many Ways
EasyPay Subscription also available
Try Now
Get Started

Save $150 on all perpetual licenses during Sept!
The four primary Mech-Q Modules are Mech-Q Piping, Mech-Q HVAC and Mech-Q Structural. Additional configurations and bundles are available including a Network Module.
With Mech-Q you always receive:
Compatibility – Runs Directly Inside AutoCAD, Bricscad and IntelliCAD
Affordability – Buy one module or get them all for a reduced price
Dependability – Includes free unlimited lifetime support
Accessibility – Features easy to use dialog interface with toolbars and menus
Versatility – Creates plans in 2D, 3D and Isometric, plus creates BOM
Exportability – Draws AutoCAD objects which can be easily shared with others
The Mech-Q Full package may also be purchased at a bundled price which includes everything except the Network module. Easy payment options may also be available depending on your AutoCAD version.
Mech-Q can increase your office productivity instantaneously. Our software is very easy to use and little training is required.  Learn more about our Engineering Software solutions today.
Download the Engineering Software Suite!
Trial is available.
Download Mech-Q Trial
Or take a
Mech-Q tour