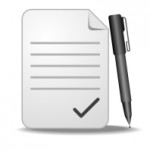 How do I get my unlocking code? Registering Mech-Q is easy.
You will need to first download the mechanical software after your payment is processed (if you have already installed a trial of MechQ you can skip re-downloading the software). When you see the startup dialog, a serial number will appear. Use our on-line authorization code application to send the serial code to us.
We will then process the serials and send you a key back. The key will be a series of letters and numbers. When the email arrives, just copy and paste the key back into the registration box.
Steps to registering MechQ
Download the Mech-Q software.
Install software.
Make note of Serial Number (see Mech-Q start up dialogue)
Open up readme.txt with download and review quick instructions
Use the Mech-Q On-Line Authorization Code Application to register your software
Once registered please allow 24 hours to receive the keys to unlock the software.