The MechQ modules library covers a large range of Mechanical, Piping, Structural an Plumbing routines  – each allow you to tabulate your data and create estimates.
To create a BOM, first load the appropriate module. MechQ allows you to create a bill of materials in just a few seconds and counts and itemized each object in your drawing!
How to add objects to BOM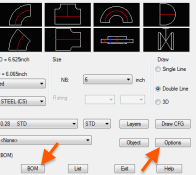 When you add Mech-Q objects (for example Piping Fittings) – the BOM option is turned on by default. Each fitting or pipe entered can be itemized in a schedule either during or after the drawing is completed.  When you're ready to generate a table choose the BOM button on Main Menu then choose Create BOM.
Customizing or add options
Within the Options from the Main Piping Dialog (or other modules Main Menu) – you can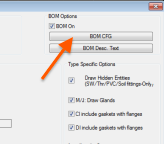 specify other settings such as whether or not to add balloons into your drawing. In addition you can choose to create a BOM only within certain sections of your drawing by choosing the Pick option.
Other technical notes:
Editing or toggling on the BOM fields must be done before you start a new drawing.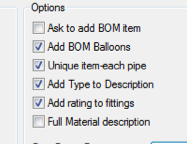 When you move, delete or copy any Mech-Q objects (for example Piping objects) – make sure that the AutoCAD variable: "PICKSTYLE" is set to 1 (On)… Groups: ON.
The Mech-Q program created Data blocks and then "Group" this with the corresponding Mech-Q object (for example Piping object) – if you have the Pickstyle variable = 0 (Off) then the data block will be left behind also resulting in BOM errors.
BOM descriptions can also be modified via the BOM options menu.
Within the Piping "Material" selection dialog – you can also choose <Add New>  this option will allow you to set the material to anything you wish.
Also make sure that you let the program finish inserting the objects in a normal way – do not use the escape key at any time while MechQ is running otherwise the BOM data will may not be added to the drawing.
Order your copy today !
Purchase either Mech-Q for AutoCAD or LT. We also have versions which required no CAD software to get started or AViCAD.