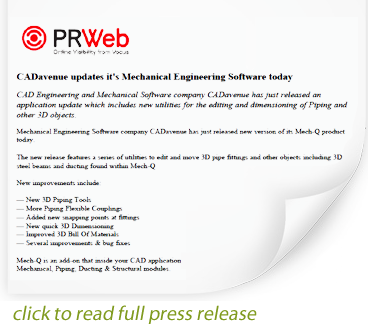 We are happy to announce that we have now added new 3D Piping Tools (Mech-Q AutoCAD 2010-2018 and AViCAD only)…
New features in Latest Release include:
• 3D Isometric Dimensioning
• 3D Fitting Rotate
• UCS Alignment
• Elevation Change by ANGLE or DISTANCE
Other recent improvements included:   
In Piping we've improved BOM functions, added more flexible couplings, added a pipe hatching option and additional nodes at fitting focal points.
In Ducting we've added new cross type fittings, improved BOM – with description prompt at balloon insertion plus a tangential option for balloons. Misc fixes also include Structural 3D I & H shapes profiles and more.
Do you have an older version of Mech-Q or AViCAD?
Upgrade your copy today – or ask us for a quote.