Powerful Engineering Software For 2D & 3D CAD
Mech-Q is a integrated plug in for AutoCAD, BricsCAD and other IntelliCAD applications. This powerful add-on adds a huge array of engineering modules to both the 2D and 3D drawing platforms.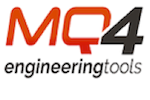 CADavenue is also happy to offer AViCAD – a feature-packed 2D and 3D CAD application with Mech-Q included. AViCAD is just like AutoCAD but at a much lower price.
Now Get Mech-Q in Many Ways
Subscriptions and Lifetime licensing available.
See Pricing
Mech-Q now $50 off - expires soon!
Mech-Q offers you an entire suite of engineering tools which can be either purchased as an entire package or as separate modules. The Mech-Q Engineering Suite includes Mechanical, Piping, Structural Steel Detailing, and HVAC applications. All Mech-Q products support the latest Windows 10 32-bit and 64-bit plus earlier Windows versions all the way back to XP.
See Pricing
What users have to say about Mech-Q
"I use plain old Autocad with Mech-Q. Mech-Q is worth every penny. With the new Acad, I'm able to draw really fast. I don't see myself buying anything else. I'm happy with what I got."
Guy Zitting, Southern Trades, Humansville, MO, USA
"I am very pleased with the Springs Module program which I've begun using immediately. I am particularly impressed with its ability to insert an exact drawing of the designed spring into my drawing…..The Mech-Q spring program has already paid for itself in time saved!"
Wiley Knight, C-F-H Telescope, Hawaii, USA
Now, you too can benefit from the powerful tools found inside Mech-Q. Download a FREE trial of Mech-Q here for 30 days. There's no obligation whatsoever.
Questions?
Feel free to contact us today about Mech-Q. We would be happy to answer any questions you may have, Ask us special discounts and multiple Mech-Q licensing offers.
Get Brochure